About Me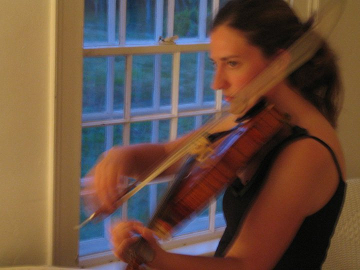 I have maintained a private violin and viola studio for 20 years, teaching students of all ages throughout the greater Phoenix area. I am also Instructor of Viola at Mesa Community College in Mesa, Arizona, a position I have held since 2007. Previously, I taught both elementary and high school strings for eleven years in the public schools, and was Director of Orchestras at the Arizona School for the Arts for two years. I am a Suzuki registered teacher through Book 4. I completed my Suzuki training with Beverly de la Bretonne, Susan Kempter, and Nancy Lokken.
My private students have participated in the Metropolitan Youth Symphony orchestras, the Phoenix Youth Symphony orchestras, the Arizona All-Regional orchestras, and the Arizona All-State orchestra. They have gone on to study music performance, music education, and music therapy at Arizona State University, the University of Arizona, and Northern Arizona University, and are currently working as performing musicians, classroom music teachers, and music therapists throughout the greater Phoenix area. My students have also gone on to study and work in a wide variety of non-music fields, including theater, doctoral studies in anthropology, the medical field, education, studio art, history, and basketball analytics. My orchestral groups have consistently earned ratings of Excellent and Superior at festival.

I am an active freelance musician as well as being a dedicated teacher. I have performed frequently as a substitute musician with the Phoenix Symphony and Arizona Opera since 2005. I have also performed with the Arizona Musicfest Festival Orchestra, the Tucson Symphony, the National Orchestral Institute, and the Brevard Music Center Festival Orchestra, as well as being a participant at the Musicorda Summer String Festival for two summers. I have been a member of the AIMS in Graz Festival Orchestra in Graz, Austria, since 2018.

I earned both the Master of Music and Doctor of Musical Arts degrees as a student of William Magers at Arizona State University. My past teachers include Ed Gazouleas, Michelle LaCourse, Carol Rodland, and Evgeniy Brodotskiy. My BA, in History and Russian, was earned from Wellesley College. Pursuing my interest in Russian, I have taught Russian at the high school level and at Arizona State University. In 2014, I was a Fulbright-Hays scholar in Moscow, Russia, as part of a program for teachers of Russian. My project focused on the lives of musicians in Moscow today. I lived in St. Petersburg, Russia, for three years, where I studied viola through the Rimsky-Korsakov Conservatory, worked for the St. Petersburg Times , and became fluent in Russian.

In-person instruction has resumed.
Online instruction is also available via Skype, FaceTime, and Zoom.
Congratulations to Valeria (MCC Violin) for her acceptance to both ASU's and NAU's School of Music for Music Education! (March 2022)
Congratulations to Jackson--1st alternate for Arizona All State Orchestra, Viola! (March 2022)
Congratulations to Jackson (viola), Elena (viola), and Angela (1st violin) for their successful Regional Orchestra auditions! (February 2023)