From The Ashes Presents:
Salonnières
Sunday, January 9, 2022, 7 PM
Church of the Epiphany, 2222 S. Price Rd., Tempe, AZ 85282
Covid Protocols: Masks are required indoors.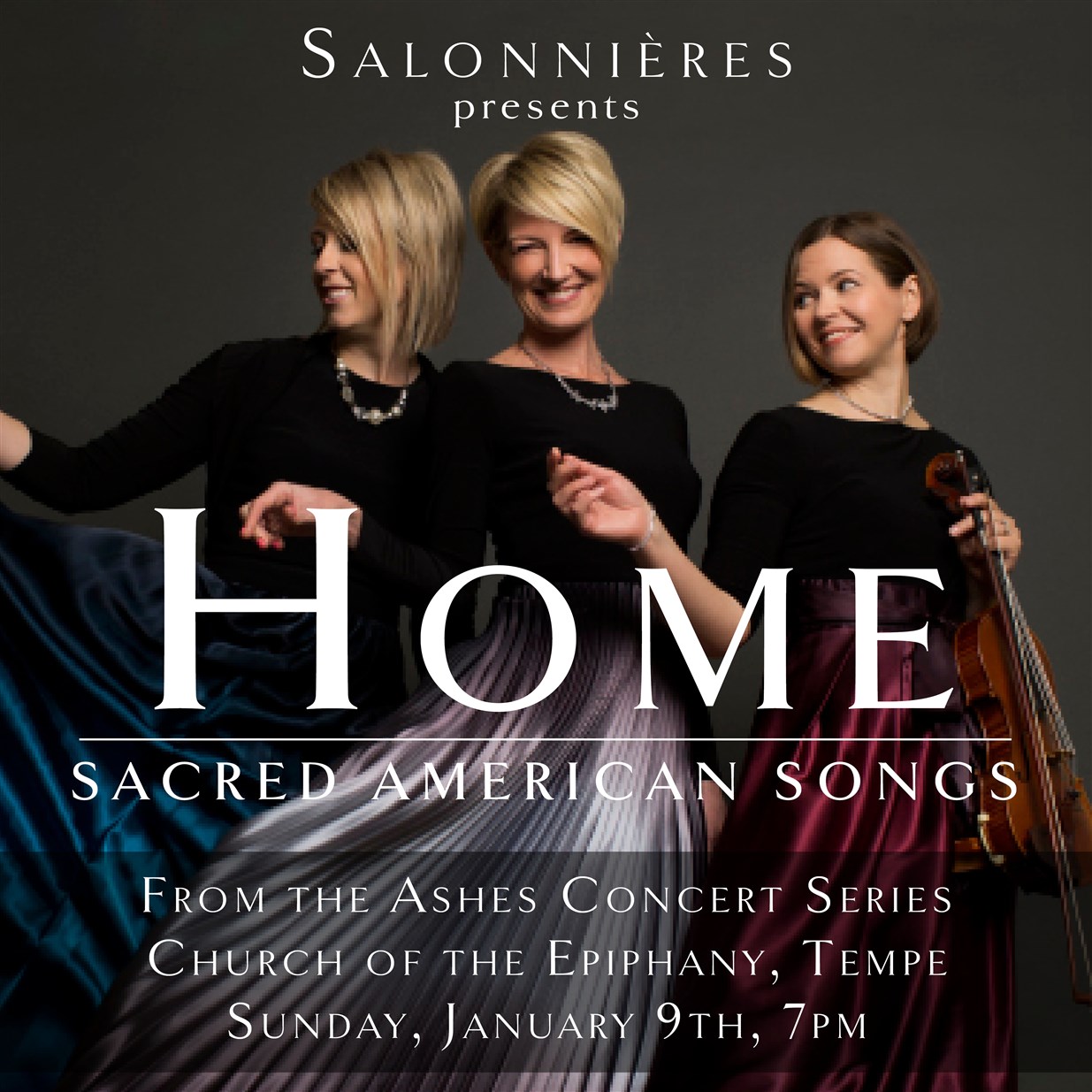 Presented by From the Ashes Concert Series at the Church of the Epiphany in Tempe, Salonnières perform "Home: Sacred American Songs," a concert that explores finding home in both place and faith. Come enjoy the breadth of American song tradition through folk tunes, classical art song, and contemporary favorites!
RSVPs are recommended but not required. This professional event is funded entirely by generous audience donations. Donations starting at $15 are recommended by the concert series. Thank you for your support!
For full concert details, information about Salonnières, and to preview many of the songs you'll hear, visit www.salonnieres.org.
To learn more about From the Ashes and its mission to support Phoenix area musicians during covid times, visit From the Ashes.
___________________________________
Phoenix based Salonnières (soprano, violin, piano) creates themed programs centered in classical music yet embracing folk, musical theater, popular, and sacred traditions. Each concert's theme is a springboard to conversations, spoken and musical, giving audiences a deeper connection with the music they hear and the people they share it with. Capturing the ambience of historic European salons where artists and audiences met in homes for cultural get-togethers, Salonnières takes its name from the title given to women who hosted these events. In today's modern settings, Salonnières places special attention on creating an environment where audience and performers can interact, share stories, and feel culturally fed by music and their fellow attendees.
Salonnières has been featured performers on UK-based Classical Crossover Magazine's virtual concert series, on Delphi Studio's new livestream concert platform, and on the College of Southern Idaho's Piano Celebration series. They work frequently with local composers and arrangers whom they feature on their Composer Spotlight Series. Their two full length albums and multiple singles are available on iTunes and other online distributors.
Learn more at salonnieres.org or by following them on Facebook, Instagram (both @salonnieresconcerts) and YouTube (Salonnieres).
___________________________________
Soprano Jamie Kay Alston has been a featured soloist with East Valley Millennial Choirs and Orchestras, the Topeka Festival Singers, in Rob Gardner's Saints and Pioneers, and with ASU choirs. She has also performed leading roles across the country: Lucy in Menotti's two person opera The Telephone, Laurey in Oklahoma!, Sarah in The Forgotten Carols, and Sarah Parker in 1856: The Musical. Ms. Alston is currently head of the voice department at Hammer and Strings Conservatory, vocal coach for the music conservatory program at Mountain View High School, and co-director of Hale Elementary Chorus. Ms. Alston received her BM in choral music education from ASU.
Violinist Jennifer Rhodes is a performer, teacher, composer, and arts administrator. She was a featured soloist with the Utah Festival Opera Company, a collaborative artist with Santa Fe New Music, a state ASTA competition winner, and has performed with orchestras including the Tucson, New Mexico, and New World Symphonies. She currently teaches advanced violinists as faculty for 7 City Strings Studios, composes and arranges for Salonnières and other string chamber ensembles, and frequently solos and records as concertmaster for Millennial Choirs and Orchestras. Ms. Rhodes received her MM from Rice University and BM from the University of Michigan.
Pianist Dr. Karali Hunter made her Carnegie Hall debut after winning 1st prize in the American Protégé Piano and Strings Competition. She appeared recently with Symphony of the Southwest and West Valley Symphony, performing Gershwin's Rhapsody in Blue, and as a guest artist and lecturer at College of Southern Idaho and Brigham Young University. Dr. Hunter has been a winner in numerous competitions, national and international. Dr. Hunter received her piano performance degrees from Brigham Young University, Indiana University, and Arizona State University. She is the founder and director of Hammer & Strings Conservatory, a new school in Gilbert for elite piano, violin, voice, and guitar instruction.